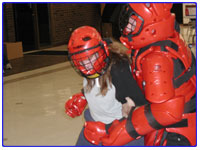 Sergeant Mike Keegan heads the Police Division's Women's Self Defense Program. The program consists of several weeks of self-defense training including personal protection techniques and general crime prevention methods. The classes are held one day a week for several weeks. The program ends with students participating in preventing a simulated attack.
"The class builds confidence", says Sergeant Keegan. "The students learn a lot of practical self defense techniques. I'd be afraid to fight against some of our graduates, some get really good."
Contact Sergeant Mike Keegan at 535-1156 to register for the next available class.